USED White Chateau folding & stacking chair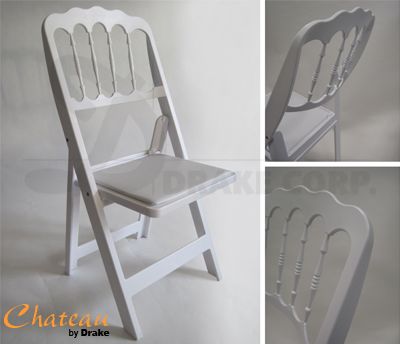 USED White Chateau folding & stacking chair
USED - white CHATEAU resin folding and stacking chair
Chateau folding and stacking chairs by Drake, with their high decorative back towering the tables and their classical rich lines, will stand out and look fabulous whatever the setting. Whether used with additional decorations or simply bare, the Chateau will bring high class event sophistication with the ease of handling of a folding chair.
The technology for the "Chateau" is the same as traditional "Structure" folding chair, Co-injection technology with an aesthetic outer skin as well as a solid foam core.
Features:
• Super lightweight. 
• Strong and secure. 
• Patented stacking and interlocking system. 
• Ultra bright white color. 
These chairs will better dominate the table set up due to the 41.5" long design.
Chateau chairs are folding, stacking (horizontally and vertically), and come equipped with an interlocking feature that makes moving and storing them quite simple. They are strong, durable, weatherproof, UV protected, don't need painting and require very little maintenance.
MADE IN THE USA - Color available: white • Quantity available : now 23