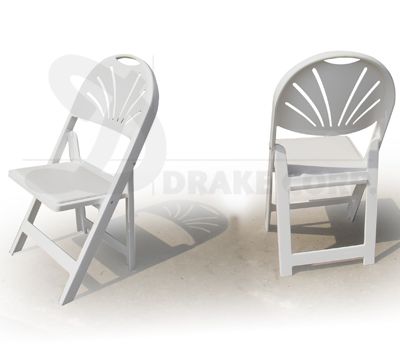 Fan Back Folding Chair
FAN back folding and stacking chair by DRAKE
• 10.5 lbs. including padded seat.
• Solid material (no hollow core)
• Available in White or Black color.

No more hanging on racks as happens with similar chairs!!!
Our chairs are folding, stacking (horizontally and vertically), and come equipped with an interlocking feature that makes moving and storing them quite simple. They are strong, durable, weatherproof, UV protected, don't need painting and require very little maintenance.

Fan are well known folding and stacking chairs by Drake. The new Fan chairs by Drake, are now manufactured with the back completely integrated into the chair frame. The decision to move toward this solution, was made both to increase the comfort of the back, and improve the aesthetics of the chair. In the new chair, the materials of the back and the frame are now consistent in resistance and color. The back is very flexible to meet higher comfort standards and to make the entire chair more impact resistant at the same time. The new backs have furthermore been designed to have a smooth surface that's not textured, which makes it much easier to clean. Texture is known to be used in plastic to hide defects. As we do not need to hide anything... we decided to ease up the life of the people that work with our products lifting the Fan chair to new, higher standards!!!

Fan chairs come in a box of 1 ea.
18" x 42" x 3" at 11 lbs.
Shipping CLASS 85

Price shown is intended for 1 chair only.